Katharine Bensinger, LCPC
Founder & CEO
Katharine Bensinger is a passionate advocate for parenting education. She holds a Master's of Science Degree in Human Services from National Louis University and a BA in Spanish from the University of San Francisco. 
Katharine has spent over 25 years dedicated to providing parents with parenting skills to help them raise healthy, confident children who are better prepared to live up to their full potential. The Parenting Fundamentals Parenting Education Program was conceived from Katharine's desire to provide more support and resources to families. Parenting Fundamentals was registered in SAMHSA's National Registry of Evidence-based Programs & Practices in 2012, in Archivo Interamericano de Programas Y Pracitcas Basada en Evidencia in 2013, and in Head Start Early Childhood Learning and Knowledge Center in 2019. 
Katharine also spearheaded constituent legislation to introduce parenting education into high school wellness curriculum across Illinois, which passed in August of 2019. Katharine currently serves as founder and CEO of ParenTeach whose mission is to educate and support emerging adults, parents, and caregivers in their most important job, the job of raising and mentoring the next generation.
Katharine also values the time she spends with her two grown children, her family and friends, canvassing for local political campaigns, hiking, swimming, knitting, traveling, and practicing yoga.
Stephanie Starr, M.Ed.
Director of Education
Stephanie Starr is a passionate consultant, educator, editor, and advocate for young people. In addition to her work as Director of Education for ParenTeach, Stephanie works as an educational consultant where she helps young people discover their path and voice.
Stephanie earned a Bachelors of Arts  in English from Davidson College and a Masters of  Education from the University of Richmond.  She spent 31 years as an English educator while supporting countless parents as their doula. She is trained in Mindfulness Based Stress Reduction, has edited a number of publications, and writes in her free time.
Stephanie also is an active member of Social Venture Partners and serves on the Selection Committee Board for Seed20, an annual program that connects the community to innovative initiatives for tackling social challenges. She is inspired by her role as a "mija" for Circle de Luz, a non-profit that mentors Latina students, and by her role in helping to select films for the Charlotte JCC film festival. She is most proud of the time she spent raising her four children who continue to inspire her to be her best.
Marizaida Sánchez Cesáreo, PhD
Director of Evaluation
Sánchez Cesáreo holds a doctorate in Clinical-Community Psychology with a minor in Women Studies from DePaul University in Chicago, Illinois. Currently, Sánchez-Cesáreo is the Executive Director of Instituto Tercera Misión (IM3) at Carlos Albizu University and the Director of the Division of Community Services (DCS) at the Graduate School of Public Health, University of Puerto Rico.
Sánchez-Cesáreo has worked in the prevention field since 1989. She has extensive expertise in program development, program evaluation, capacity building, technical assistance, community based-research and evidence-based interventions.
For the last 16 years her work has focused on policies, practices and programs that promote the optimal development of children and youth and addressing health disparities that affect their lives. In collaboration with community partners, currently her team is implementing 10 evidence-based interventions including ParenTeach's Parenting Fundamentals.
---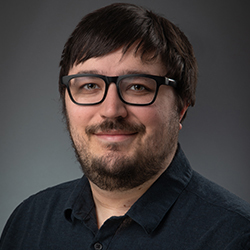 Tom Blackburn, AA/AS
Technology & Edtech Consultant
Tom Blackburn brings over 10 years of experience in various technological fields to ParenTeach. He originally studied media arts at Columbia College in Chicago before stepping into the IT field as a specialist and engineer before moving into high-level consulting and has loved it ever since. His blended experience in IT and design & media suits him very well in the Edtech world.
Tom currently contracts with ParenTeach through a consulting company called Kitt Labs, LLC. He is responsible for developing and implementing technical platforms, maintaining and expanding digital products, providing technical support, and program management.
---
Isabella Paglicci, BS
Administrative Assistant
Isabella Paglicci studied Conservation and Restoration Ecology at Loyola University Chicago, where she engaged in community advocacy and environmental management throughout Cook County. Her experience in education comes from her time working for government agencies in NW Indiana and Illinois, teaching students of all ages and backgrounds. Isabella also has experience teaching elective subjects, including dance and music.
As the administrative assistant for ParenTeach, Isabella is responsible for office management, client communications and bookkeeping, curating social media content, and proposing marketing strategies.
Robyn Gabel - House Majority Leader, State Rep. 18 District Illinois
Terri Levy - Private Practitioner, Psychologist
Bridget Albertson - Managing Director A to Z Cap
Dan Conley - Founder and CEO, Beacon Communications
Liz DeBenedictis - Vice President, TIAA-CREF Life Insurance
Edwin Eisendrath - Self-employed, Business Consultant
Elizabeth Foster - Co- Owner, Kilkenny Capital Management, L.L.C.
Andrew Morrison - Investor Altis Capital Development Inc.
Tina Rzepnicki - Professor Emerita, University of Chicago, School of Social Service Administration Administration
Kitty Rothschild - SEL Specialist
David Helfand - Co-president, Sam Zell Equity Group Investment Firm
Michael Walsh - Co- Owner, Kilkenny Capital Management, L.L.C.
Alex Sinclair - Strategic Communications, IBM Consulting